How small businesses can make it big on Facebook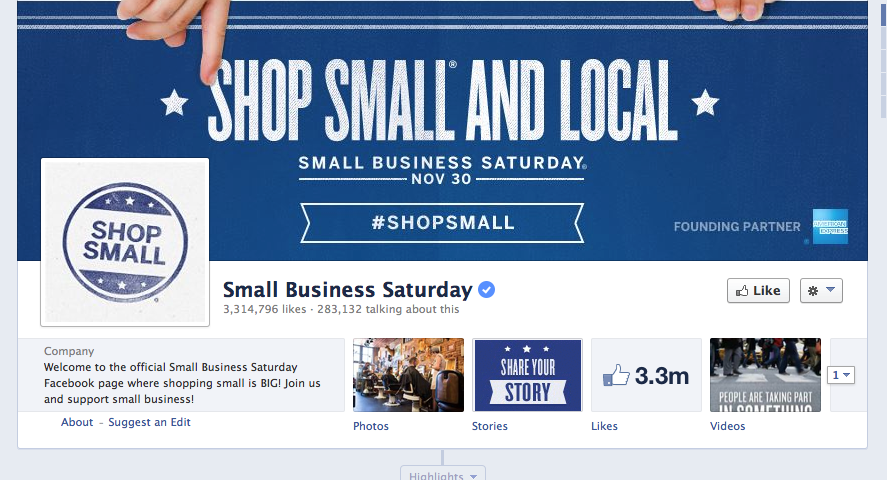 There's a campaign gathering pace to get people to support small businesses as they get stuck into their Christmas shopping.
Small Business Saturday is already big news in the US, where it generates an estimated consumer spend of $5.5 billion, and this coming Saturday, December 7th it comes to the UK as we reported this month in First Voice, the magazine CW publishes for the Federation of Small Businesses.
It's also encouraging to see that the Small Business Saturday Facebook page in the States has attracted 3.3million likes (the UK has a way to go, but it's early days yet!) which demonstrates that social media marketing is most definitely not just for the big boys.
A timely blog from our friends at Econsultancy this week reveals that 16 million local business pages had been created as of May 2013, doubled from the previous year. There are loads of good tips on how any business can make the most of Facebook in the full blog which you can read here, but from our experience many small businesses struggle to keep the ideas flowing. So here are some pointers, none of which we'd disagree with…
Know what to post
Simply valuable, quality content: this could mean many things. Something entertaining, funny, interesting, helpful… any of these types of content can mean quality to a follower.
Relevant content to share with your community: engaging and replying to followers is a must, but also proactively sharing useful content with them is important too.
Get the balance right: using Facebook as a marketing/broadcast platform and as an engagement platform isn't that difficult. But don't broadcast your own content too much. Engage with your community in an open manner, then the occasional piece of marketing written in your identifiable tone of voice will achieve a much better and positive response.
Mix it up: go off topic. Share content that isn't even your own. Entertain your community and you'll retain their interest and loyalty.
Ask questions: this may seem like a transparent way to drive conversation, but drive conversation it does. Perhaps getting away from the more manipulative hard-sell of asking 'what do you like most about our product?', and instead ask slightly more lateral questions that are in the realm of your business. Remember that a question will achieve higher comments, but fewer 'likes' and shares.
Be visual: according to Kissmetrics, photos get 53% more 'likes', 104% more comments and 84% more click-throughs on links than text-based posts. Perhaps consider using Instagram to share your photographs to Facebook, thereby utilising two channels and extending your online reach.
Be concise with your text: 250 characters seems to be the maximum length for Facebook posts, and be visual as much as you can.
Facebook exclusives: if you're serious about cultivating a strong Facebook presence that has a maximum response rate, consider spreading your content across multiple platforms rather than repeating it. This encourages users to follow you across all channels, and not to drop/block/unfollow your company if all you're doing is dual or triple broadcasting.
Competitions, promotions and sneak-previews of forthcoming products: these exclusives are a great way to build up a following. Using your other social media channels to promote exclusives elsewhere will help bolster your channels and encourage followers on each one.