Half of marketers time to be spent on content marketing in 2016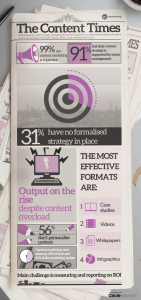 Content marketing continues to thrive in both consumer and B2B sectors.
A recent survey by B2B Marketing found that:
There has been a huge increase in the amount of content B2B marketers are producing over the last year. Eighty-three per cent of respondents reported an increase in the amount of content produced, with a mere five per cent claiming to have produced less. Despite this, 82 per cent of respondents also stated that they anticipated increasing their output over the remainder of 2015 and 2016.
This rapid and sustained increase in output is having a significant impact on the marketing department and, in particular, on resource allocation. Over the last three years, content marketing has steadily encroached on the department's focus: the equivalent report in 2013 showed that 37 per cent of marketing's time was spent on content, rising to 40 per cent in 2014, and reaching 45 per cent this year. If the predictions on future content production are correct, 2016 could be the year where marketers spend more than 50 per cent of their time on content.
All good if you have the resources and strategic know-how.  However, the demand for quality content may prove too much for many and so pulling in the support of a content creation partner becomes a wise choice.  31% of marketers don't have a strategy but are winging it.  And measuring ROI is still cited as a difficulty for many.
This report from B2B Marketing discusses trends and issues in greater detail and we'd like to thank B2BM for this great piece of content.  https://b2bm.turtl.co/story/557e92fa67e6577b53e56511
Meantime, if you are struggling to keep up and produce strategic, quality content then give us a call.  We're happy to discuss how journalistic led branded content can help your business.
www.cwcontentworks.com | 01527 61122 | melanie@cwcontentworks.com