Content Marketing: Why Headlines Are So Important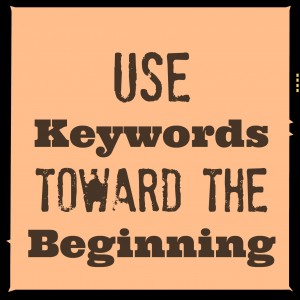 In an age of content overload, your headline is one of your biggest opportunities to grab audience attention.  It's likely to make the difference between someone clicking through to your content/website or not.  It's of equal importance to SEO too – Google will be ranking you by headlines.  Follow a few basics and you'll get the right results.
Tips For Writing Headlines
Be sure your headline is authentic.  Don't over promise or trick the reader with the headline.  It won't help in the long run – your customer will feel duped and you'll lose trust – and Google algorithms will spot it and penalise/devalue your content so it won't show up in searches.  If you are creating quality content of real value you won't fall into over promising in your headlines.
The secret to opitmising for social and Google search is keywords.   Keywords work best when used at the front of a headline.  For example, if you want to rank for content marketing the title we used illustrates this:  'Content Marketing: Why Headlines & Titles Are So Important'.
Avoid writing for search engines.  Google wants to see quality content of real value and it's algorithms are designed to mimic human behaviour.  If you keyword-spam Google will devalue your content and it won't show up in page searches.  Write for humans, lead with keywords, be genuine and you won't go far wrong.
Your main page title is called an H1 for SEO purposes.  Google pays particular attention to H1 titles and expects it to provide clues to the content that follows.
Keep your title to 65 characters or less so it is not shortened in Google page results.
CW Content Works is a copywriting & content agency led by journalists.  We help big brands and small businesses create compelling communications with their customers.
www.cwcontentworks.com  or call 01527 61122 or email info@cwcontentworks.com