CONTENT CREATION: The Content Marketing Pyramid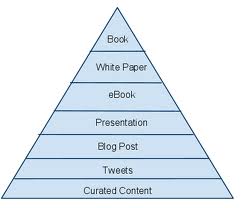 Overwhelm. Disorder. Dearth.  Words that describe how some managers feel about their content marketing strategy.  Perhaps a content pyramid may help then.  It's a simple framework that easily identifies formats for content, and works by creating a solid foundation from which original and re-purposed content is then strategically created.
Why The Pyramid Works
Marketing works best when your audience sees that same message over and over in different places at the same time.  The marketing pyramid assists this by:
Reinforcing the same message in many formats across many channels at the same time.
Offering your audience the message in different formats so they can choose to process content in their preferred modality (visual, auditory, kinesthetic, tactile – more of this later).
Structure to your process
It ensures a thorough and strategic approach to repurposing.
Start With The Foundations
The pyramid foundations are built on curated content – third party content that is reposted with credits to the originator, or used as a starting point to drive your own original content.
As you work up the pyramid, easily produced content makes way for more complex content that takes more time and energy to create.  But all the while, you have a foundation you are building on, whilst repetition and saturation of your content is ensured.
Repurpose Content in Different Formats
Repurposing content is shrewd because not only does it extend resources and save your time and energy, it also benefits your audience who like to consume content (messages) in different formats.  We all have a dominant learning/processing style and psychologists call it VAKT modalities – visual, auditory, kinesthetic and tactile.  So a visual person may prefer infographic content or video content, and an auditory person might prefer an interactive webinar.
Slice & Dice Content
One form of content can spawn many others.   Again, this supports the marketing principle that marketing works best when your audience sees that same message over and over in different places at the same time.  For example
 An eBook can be disseminated into 15 blog posts.  Or try it the other way around.  15 related blog posts become an eBook.
An explainer video is sliced into single frame shots for Facebook and blog postings.
A PowerPoint presentation is revamped into an ePublication.
The possibilities are endless really. So make a beginning and before long your content famine may transform to a content feast.
For more ideas or to ask us about content creation and strategy, call Mel on 01527 582928 or email melanie@cwcontentworks.com