CW fighting the corner for small firms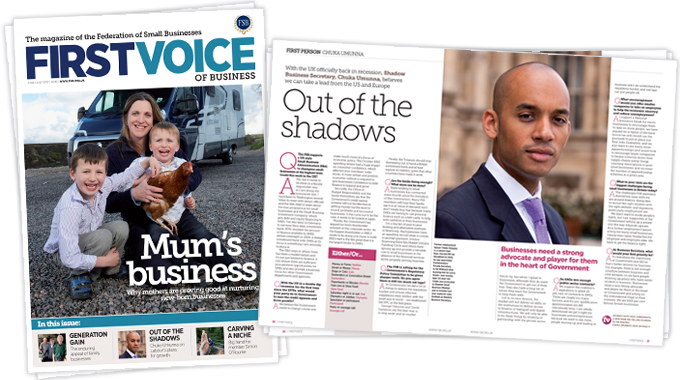 The UK's leading lobbying group for small businesses has selected CW to produce its bi-monthly magazine. 
First Voice is distributed to 200,000 members of the Federation of Small Businesses across the UK. The 40pp magazine is written and designed by CW and edited by Stefan Volak. It focuses on key business and political issues facing SMEs as well as profiling members and highlighting achievement and success.
Many of Britain's small firms are under considerable pressure simply to survive, struggling to secure funding from banks and having to wade through a sea of red tape, said Stefan.

The FSB fights their corner, providing support and guidance to business owners, and First Voice is quite literally the voice of the organisation and its members.
Despite the ongoing economic worries there are positive and encouraging business stories to be found and it's also the role of the magazine to identify and celebrate these.
The national media seems to delight in telling us how bad things are and we are in danger of talking ourselves into a downward spiral of gloom and doom. First Voice aims to redress the balance with good news stories from real life entrepreneurs.
With three editions now under CW's belt, the FSB's head of publications Nigel Duncan says the magazine has never looked better.
We chose CW for their journalistic credentials, professionalism and proven publishing experience. The quality of both the writing and design has noticeably improved and feedback from members has been universally positive.