A Grand Theft Day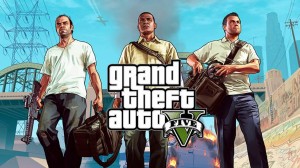 It's had fans queuing through the night to get their hands on a copy.
But after five long years in development, the 'greatest game of all time' has not been delivered…it has exploded onto the market. Overtaking all previous sales records, a reported £500 million has been taken during the game's first 24 hours on sale.
The most expensive game ever made with a combined development and marketing budget of £170m – more than movies such as Avatar and Harry Potter – it has clearly been money well-invested for the most eagerly anticipated game releases ever.
It has beaten the record for single-day game sales, which was set last November by Call Of Duty: Black Ops II, which made £310m.
All of this and the game is still yet to launch in major gaming markets in Brazil and Japan.
Experts are estimating it could generate £1billion during its first year on sale, with gamers predicted to snap up 25 millions copies, breaking all current records.
The Grand Theft Auto series has accumulated sales of 135 million copies since its 1997 debut.
Also due to break records this week is, Apple.
Even GTA's incredible figures are dwarfed by Apple's iPhone successes – it sold 31 million units in the three months to June 2013. And people eager to get their hands on the new 5s began queuing four days ago ahead of tomorrow's on sale date.
Let's just hope both game and phone live up to all heightened expectations or the backlash will be fast and furious in today's fickle fad world.